Ideas

This page is reserved for examples of great projects you can do with your materials.
I will be having monthly crafting contests with the winner receiving more crafting items!! YIPPEE!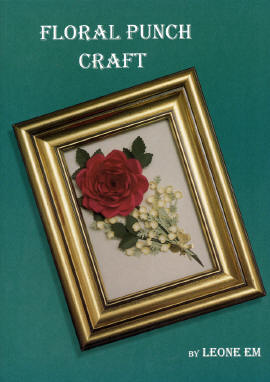 "Small Balloon and Heart Punches"

Below is a sample of part of a design in Book One. As you can see, the book guides you, step by step, through the entire construction process. The book lists the punches required, guides you through shape making, putting the flowers together right through to the completed project.

(1) Small Balloon punch X 6 = 1 flower with 6 petals. The base of each balloon is the base of each petal.

(2) Give the 6 balloon shapes "half moon character" on the molding pad with the small end of the white tool. Turn the tool's half round shape onto its side. Stroke firmly across the width of each petal.

(3) Punch 1 extra balloon shape in the same color as above. Cut off the base to form a round flat piece of paper.

(4) Glue the base of each shaped petal to the round flat paper from Step 3. Start at 12 o'clock and go clockwise. The petals will overlap. The base of each will touch. Stop before last petal.

(5) The last petal has a small cut near the base on the right hand side. This cut allows it to slip in behind the 12 o'clock petal.

.../continued on page 37 of Book One.
Headline

Hours:

O P E N
O P E N
O P E N

We're here 24/7

It's going to be an exciting year! More items coming in every day.

If you don't see what you wish, be sure to ask, I am glad to special order items for you (and maybe carry them) just because YOU ASKED!

My warmest welcome to my customers....I'm so glad you stopped by. Be sure to grab a cookie as you shop....mine have no calories! :)

Would you like to open a web store? Don't get stuck with a solution that controls you. Ask and I'll direct you to an easy, fun and reasonable solution!