Ideas

This page is reserved for examples of great projects you can do with your materials.
I will be having monthly crafting contests with the winner receiving more crafting items!! YIPPEE!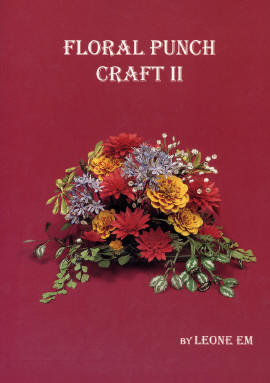 Table of Contents, Book II

4
Equipment and Hints
7-9
Character Charts
10-11
Dahlia, Front Cover and Main Stem
12-13
Marigold and Agapanthus, Front Cover
14-15
Maiden Hair Fern, Gypsophilus, Front Cover
16-17
Carnations, Instructions and Color Plate
18-19
In Color: Australian Native Flowers and Poinsettia Christmas Greetings
20-21
Double Impatience Instructions and Color Plate
22
Australian Natives; Banksia Instructions
23
Australian Natives; Wattle and Bottlebrush Instructions
24
Australian Natives; Flower Gum and Boronia Instructions
25
Punch's Information and Labium album, Front Cover
26
Leaves from various Punches
27
Lace Edging and alternatives for Stamens
28-29
Softly, Softly Instructions and Color Plate
30-32
Flowers 1 to 18 in Full Color
33
Flowers No. 1 and 2, Daffodils and Marguerite Daises
34
Flower No. 3 Hyacinth and Flower No. 4 plus variation
35
Flowers No. 5 and 6
36
Flowers No. 7 and 8
37
Flower No. 9, Water Lily and Flower No. 10
38
Flowers No. 11 and 12
39
Flowers No. 13 and 14
40
Flower No. 15 and Queensland Umbrella Plant, Front Cover
41
Flower No. 17 and Tracing instructions
42
Flower No. 18 and Calyx instructions
43-47
Poinsettia Christmas Greetings
48
Pansies, Back Cover
Punches Featured in Floral Punch Craft Book II

(The Punch Bunch)

Mini
Circle
Flower
Maple Leaf
Sun
Small
Balloon
Circle
Foot
Heart
Maple Leaf
Oak Leaf
Lips
Shamrock
Snowflake
Star
Sun
Medium
Flower
Heart
Snowflake
Tree
Large

Balloon
Bell
Birch Leaf
Bow
Flower
Heart
Holly
Maple Leaf
Oak Leaf
Santa
Scallop Oval
Sun
Tree
Silhouette
Flower #1
Flower #2
Corner Decoration

Flower
"Crimson Delight"

Below is a sample of part of a design in Book Two. as you can see, the book guides you, step by step, through the entire construction process. The book lists the punches required, guides you through shape making, putting the flowers together right through to the completed project.

Paper: Red and cream for the flowers and green for the leaves.

Shapes: Required per flower: Balloon X 12, Silhouette Flower X 1, Small Sun X 2 and Baby Flower X 1. Holly X 7 shapes, Burgundy marker or dark red paint and brush are also necessary.

(1) Trim the Balloon shapes at the base as shown.

(2) Glue one shape to each of the Suns rays. The Sun has 12 rays. The petals form a circle, one overlapping the other. allow to dry.

.../continued on page 38 of Book Two.
Headline

Hours:

O P E N
O P E N
O P E N

We're here 24/7

It's going to be an exciting year! More items coming in every day.

If you don't see what you wish, be sure to ask, I am glad to special order items for you (and maybe carry them) just because YOU ASKED!

My warmest welcome to my customers....I'm so glad you stopped by. Be sure to grab a cookie as you shop....mine have no calories! :)

Would you like to open a web store? Don't get stuck with a solution that controls you. Ask and I'll direct you to an easy, fun and reasonable solution!