Ideas

This page is reserved for examples of great projects you can do with your materials.
I will be having monthly crafting contests with the winner receiving more crafting items!! YIPPEE!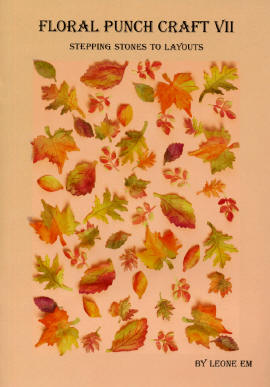 Table of Contents, Book VII

Front Cover
Autumn Leaves
Inside Front Cover
A King's Crown
2-3
The Stepping Stones to Layouts
4
Autumn Leaves Instructions
5
Spring Fever Instructions
6-7
A King's Crown Instructions
7
Guidelines, Ruler, metric and inches
8
Colorful Lazy Daisies Instructions
9
Colorful Daisies, Lazy Daisies' Merry Christmas
10
Easter Basket
11
Spring Fever Happy Birthday
12
Masquerade
13-14
Masquerade Instructions
14
Stem with Three Leaves
15
Lazy Daisies' Merry Christmas Instructions, Adhering Greetings from Word Punches
17
Word Punches
18
Pearls of Wisdom Instructions
19
A Happy Birthday Greeting Instructions Punch Chart
20
Lilium's Delight Instructions
Inside Back Cover
Lilium's Delight
Back Cover
Pearls of Wisdom
Punches Featured in Floral Punch Craft Book VII
(The Punch Bunch)
Super Giant

Birch Leaf
Lilium Feathers
Maple Leaf
Oak Leaf
Stem
Wedgewood Vase

Theme

Happy Birthday
Merry Christmas
Use of Colors
Layouts can be bold and striking or subdued and sophisticated. Color can dictate whether the arrangement is delicate or robust and earthy. From a single stem Rose to a vase overflowing with a floral display, the steps outlined in the Guidelines section of the book apply. Wonderful colors together are: Red and Cream, Orange and Purple, Electric Blue and Buttercup Yellow, Purple and Yellow, to name a few...
Headline

Hours:

O P E N
O P E N
O P E N

We're here 24/7

It's going to be an exciting year! More items coming in every day.

If you don't see what you wish, be sure to ask, I am glad to special order items for you (and maybe carry them) just because YOU ASKED!

My warmest welcome to my customers....I'm so glad you stopped by. Be sure to grab a cookie as you shop....mine have no calories! :)

Would you like to open a web store? Don't get stuck with a solution that controls you. Ask and I'll direct you to an easy, fun and reasonable solution!