Ideas

This page is reserved for examples of great projects you can do with your materials.
I will be having monthly crafting contests with the winner receiving more crafting items!! YIPPEE!
Idea Page
Kreinik Thread
My Own Little Mermaids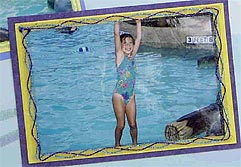 By Treasure It
Skill Level: Beginner
Embellish the swimsuits with double-sided Treasure Tape™ and clear Beadlets—they'll glisten like real, wet suits!
Materials needed:
• 12" x 12" paper in a blue swirl, to replicate water or waves
• three photos of your child swimming
• blue, yellow, aqua, purple cardstock
• 1/4" Treasure Tape™
• 4" x 6" sheet of Treasure Tape™
• Diamond Beadletsฎ
• Kreinik 1/16" Ribbon 054F Lemon Lime
• Kreinik Tapestry #12 Braid in 026 Amethyst, 091 Star Yellow, 014HL Sky Blue Hi Lustre
• Shallow pan or tray
• tracing paper or clear template plastic
Instructions:
1. Cut yellow and aqua cardstock 1/4" larger than your photos. Mount photos in the center using scraps of Treasure Tape™.
2. Cut one more piece of yellow cardstock, plus the purple and blue cardstock, 1/4" larger than the photo/cards you just made. Mount your photo/cards in the center of these.
3. Lay 1/4-inch Treasure Tape around the border of each photo, overlapping onto the inner cardstock. Remove the red liner to expose top sticky part.
4. Lay Kreinik 1/16" Ribbon and Tapestry Braid in swirl patterns on this tape. Use our photo as a guide, or create your own designs.
5. Lay each photo in the pan and cover remaining sticky areas with Diamond Beadlets.
6. Lay tracing paper or plastic over each photo and trace bathing suits. Cut out. Lay this template on the sheets of Treasure Tape™ and cut out the bathing suit shapes following your template.
7. Remove white backing from the tape shapes, and lay on each photo, covering the bathing suits.
8. Remove red liner to expose sticky part, lay photos in your pan and cover with Diamond Beadlets.
9. Mount photos on background paper as desired, adding date and captions.
Option: we laid Treasure Tape on the swirls of the background paper, removed the tape's red liner, and covered with Diamond Beadlets.
Thinking of You card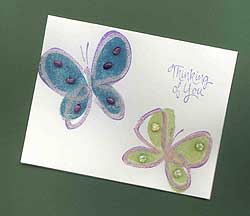 Designed by: Dena Lenham
Skill Level: Beginner


Materials needed:
• Kreinik Iron-on 1/8" Ribbon 6500 Hydrangea, 6100 Carnation
• 4" x 6" sheet of red liner Treasure Tape™
• Diamond Beadlets
• shallow tray or pan
• white cardstock, cut 8.5" x 5" and folded in half to form a card
• white envelope
• Butterfly rubber stamps ("Bold Butterfly" by Stampin' Up, or similar)
• "Thinking of You" rubber stamp
• Lilac or purple stamp pad
• Leaf green stamp pad
• flat-backed purple and green beads or cabochons
• Clover Mini Iron or household iron
• Kreinik Teflon Press Cloth

1. Turn your iron onto the highest heat setting and let it heat thoroughly.
2. Meanwhile, stamp "Thinking of You" and your butterflies on the front of your white card using the purple and green stamps.
3. Outline each butterfly, following your rubber-stamped lines, with the Iron-on ribbon, using 6300 Hydrangea on one butterfly, and 6100 on the other. To do this, lay the thread at a starting point, cover with the Teflon Press Cloth, and press with the hot iron for several seconds until the thread adheres. The Teflon keeps the adhesive in the thread from sticking to your iron.
4. Stamp the butterfly shapes on the white side of the Treasure Tape sheet. Cut out.
5. Remove the tape from the white backing and lay onto the butterflies on your card.
6. Remove the red liner to expose the top sticky area. Attach cabochons in desired places. Lay the card in your pan or tray and cover the sticky area with the Diamond Beadlets.

Beaded Button Box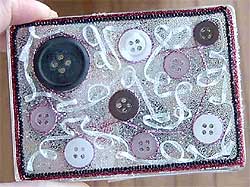 Designed by: the Discount Diva
Skill Level: Beginner

Check out the sewing supplies at your local dollar or discount store. We found this cute button box that can be embellished by you or your child, and given to a sewer as a gift (inexpensive and FAST!).

Materials needed:
• button box from a discount store
• 4" x 6" Treasure Tape sheet
• Diamond Beadlets
• buttons to embellish the top
• Kreinik 1/16" Ribbon in desired colors (we used 100 White)
• Kreinik #12 Braid in desired colors (we used 031 Crimson and 007 Pink)
• Kreinik Facets in desired colors (we used Black)
• shallow pan or tray

Instructions:
• Trace the outline of your box top onto the white side of the red liner Treasure Tape. Cut out.
• Remove the white liner and place the tap on the top of your button box. Remove the red liner to expose the sticky part.
• Decorate with any buttons first, placing them randomly or in a particular pattern onto the tape.
• Next, lay the thread in desired places. Lay the Facets around the edge as a border, then swirl and curl and lay the other colors as desired, pressing into the tape to adhere the threads.
• Then lay the box in a shallow pan or tray and cover all remaining sticky areas with the Diamond Beadlets.
Rainbow Flip Flops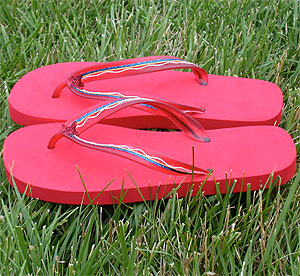 Designed by: Amy Law
Skill Level: Beginner
Materials needed:
• one pair of flip flops (target)
• 3/4" treasure tape
• scissors
• Treasure It Diamond Beadlets
• Mrs. K's Dimensional Thread: #16 Braid 092, 1/8" Ribbon 015, #12 Braid 012

Instructions:
1. Apply your 3/4" tape in two strips to cover the entire top of the plastic straps. Trim to the edge if necessary.
2. Peel back the red liner from both sides.
3. Beginning as close to one end of the strap as possible, use the 015 thread to create a border along the top and bottom of the strap. Add a second border inside the green using your pink thread.
4. Begin in the center of the strap and create a flower using your purple thread. make a loop with the thread and press it down. Make a second loop opposite the first, and press it down as well. Make two more loops to form the flower. Continue these steps along both sides of the straps until you have a row of flowers on each side.
5. Place your flip flop in a ziploc bag or a shallow tray, and pour Diamond Beadlets over the exposed tape. Tap gently to remove excess beadlets, and your new flip-flops are ready to wear!
Beaded Prom Shoes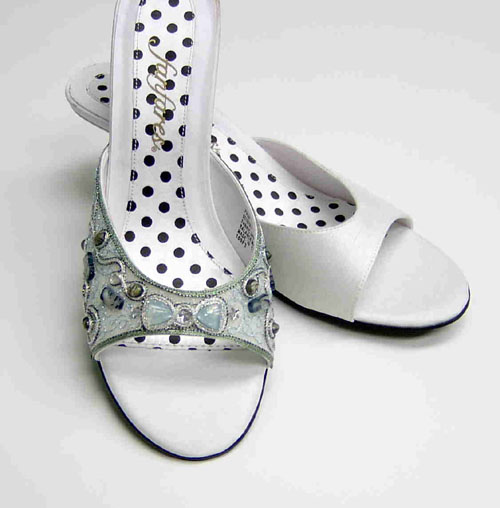 Designed by: Amy Law
Skill Level: Beginner
Dance the night away in these beautiful embellished shoes. You'll look like a million dollars - but only you will know that you simply embellished a plain pair of discount shoes with beads, tape and Kreinik metallic thread.
Materials needed:
1" Treasure Tape
flat-backed beads or cabochons
Kreinik 1/8" ribbon in color 086C
Kreinik #12 Braid in color 5009
Kreinik #32 Braid in color 3231
Kreinik #4 Braid in color 014
Diamond Beadlets
shallow pan or tray
white dress shoes
Instructions:
1.First, apply your tape to the shoe. Beginning on one side of the toe, apply your tape across the shoe and trim even with the sole. Repeat this process, adding strips of tape until the entire toe area is covered.(If some strips do not lie as flat because of the curve of the shoe, this is ok- when you remove the liner, you can even out the tape and it will not be noticeable) Press along your tape to smooth out any air pockets and make sure the tape adheres firmly.
2. Peel the red liner off your shoe. (You can peel off all of it at once and work your design as a whole, or you can peel a little away at a time, and work on the parts of your design one at a time.) Begin your design by arranging your cabochons on the tape. Press firmly to adhere them.
3. Next, apply the Ribbon to the top and bottom edges of the shoe, to create a border around your design.
4. With the #32 braid, create your main design. We used the cabochons to guide the shape of our thread design. Once the main design is done, use the #12 to outline the design.
5. Using the #4 braid, fill in between the main areas of your design.
6. Using a piece of the red liner to protect the tape from your fingers, press firmly along the threads in your design to make sure they adhere. Place the shoe in a container or ziplock bag and pour Diamond Beadlets over the exposed tape areas. Tap the shoe gently to remove excess beadlets.
Repeat this process with your second shoe, and your personalized pair is ready for dancing.

Embellished Binder Clips

Design by Dena Lenham

Skill Level: Beginner

Materials needed:

medium sized binder clips from an office supply store
Kreinik metallic braid any color* *(we used #12 Braid 053F)
red-liner, heavy duty, double stick tape* (we used 1" Treasure Tape)
micro seed beads* (we used gold, blue, pink)
shallow pan or tray

Instructions:
Grandma's Ruby Slippers


Designed by Dena Lenham
Skill Level: All



If you want to dress up as Dorothy for Halloween, but need more comfortable shoes, never fear: take a plain red pair of anything, and decorate it. You can put the sparkling 'ruby' touch on any shoe using beads, tape and thread.

Materials needed:
• red tennis shoes
• Kreinik Iron-on #16 Braid in 6010 Pearl (or go all red with 6130 Red)
• Kreinik Teflon Press Cloth
• Mini Iron or household iron
• 1/4" Treasure Tape™
• Diamond Beadletsฎ
• Kreinik #12 Braid 061 Ruby
• Red buttons
• Treasure Tape™ dots
• shallow pan or tray

Instructions:
Click here to download the FREE instructions for this design. You will need the FREE program Adobe Reader to view and print this file.

Twisted cording using 4 colors
Designed by: Kreinik staff
Skill Level: Beginner
Enlist three of your friends to help you make 4-color twisted cording for friendship bracelets or piping on projects like stockings and ornaments. You can choose your own colors and match your cording to designs or outfits. Remember-use this simple formula-The more friends, the more stripes!!
Materials needed:
4 colors of Kreinik Heavy #32 Braid, 1/8" Ribbon, or Medium #16 Braid or for finer cording use #4, #8,#12 or even Serica silk
Kreinik Custom Corder with weight
3 friends to help you
Instructions:
1. Measure your project to determine the length to make your trim. Multiply that measurement times 3 to determine the total length of thread you need to cut in order to complete your trim. Cut each color that length. (i.e. for 12" trim you need four 36? lengths of thread).
2. Take one of your thread colors and tie the ends together; this forms a loop. Loop a second thread through the first loop and tie the ends of that thread. Have friend #1 stand opposite you and hand that person the second loop which should now be attached to the first loop.
3. Take the thread you are holding and slip the knotted end onto the hook of the Corder. Note: the knotted ends should always be the portion of the loop on the outside. This way it will not become part of the trim.
4. Begin twisting with the Corder. When the thread becomes so tight that it almost begins to kink, stop winding. Carefully remove the thread from the Corder, holding it tightly, and hand the end to friend #2 to hold securely.
5. Now drape another thread around the center of your twisted threads and tie the new thread's ends together. Insert the knotted end of the new looped thread onto the hook of the Corder, and begin twisting until the third thread is twisted tightly. Now let friend #3 hold that end securely.
6. Drape the fourth thread over one of the twisted threads at the intersection of your three threads and make another loop by knotting the ends. Loop the knot onto the hook of the corder and begin twisting.
7. When this fourth thread is twisted tightly, place the weight that comes with the Corder in the center where all of the threads intersect. Carefully collect the ends holding them together with one hand while keeping the tension on the threads by pulling down on the weight with your other hand. When all of the threads are held together and aligned at a 90 degree angle to the floor, release the weight. The threads will naturally twist forming your cord. You have now made a 4-stripe corded trim for your project.
Tip 1: If you want the cording to be thicker, use more than 1 strand of each color.

Tip 2: You can add more stripes. You just need more friends.

Tip 3: Beads or charms are easy to slide onto the threads before twisting.

Tip 4: It is easy to make faux jewelry with the corder.

Tip 5: This is a ?kid tested? product. They love it.

Tip 6: Easily make belting for sweaters.

Tip 7: Blend different types of threads to make interesting purse handles or straps.

Tip 8: Make decorative cords for lanyards.
Headline

Hours:

O P E N
O P E N
O P E N

We're here 24/7

It's going to be an exciting year! More items coming in every day.

If you don't see what you wish, be sure to ask, I am glad to special order items for you (and maybe carry them) just because YOU ASKED!

My warmest welcome to my customers....I'm so glad you stopped by. Be sure to grab a cookie as you shop....mine have no calories! :)

Would you like to open a web store? Don't get stuck with a solution that controls you. Ask and I'll direct you to an easy, fun and reasonable solution!